Getting Started with Zoom
Zoom is a remote meeting and conferencing application with full audio, video and chat capabilities. As a faculty or staff member, you can host meetings with unlimited minutes for up to 300 participants.
Downloading the Zoom Client
In order to enjoy the full capabilities of Zoom conferencing, please download and install the Zoom Client for Meetings on your computer.
When opening the Zoom Client for the first time, you will be prompted to sign-in.
Please select Sign In with SSO and enter ucdenver as your Company Domain.
You will be redirected to the University login page. Please login with your University credentials.
The Zoom Client for Meetings displays a calendar of upcoming meeting and allows for the scheduling and joining of new meetings.
Note: If you are a macOS user, please refer to the following link for more information on downloading and using the Zoom Client.
Zoom Portal
The Zoom Portal uses your University credentials for sign-in.
The portal allows you to:
Schedule a meeting.
View your upcoming and past meetings.
Change your name or photo.
Configured settings for meetings you will be hosting.
Access your "Personal Meeting Room", a Zoom space that is always accessible with a static URL.
Zoom Profile

Your Zoom Profile is accessed in the Zoom Portal – it is the top link on the left-side menu.
The Zoom Profile allows you to:
Edit the way your name appears when attending a Zoom meeting.
Update your time zone.
Change the default profile photo that displays when your video is turned off in a meeting.
Find your personal meeting URL.
Zoom Outlook Plugin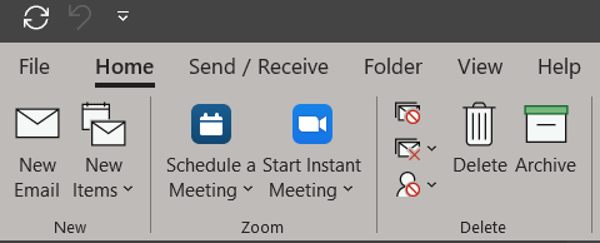 Downloading the Zoom Outlook Plugin adds two Zoom buttons to your top Outlook toolbar – Schedule a Meeting and Start Instant Meeting.
When scheduling an Outlook meeting, the Zoom meeting URL and call-in info will be automatically added to your meeting invite when clicking the Zoom button.
Note: If you are responsible for scheduling Zoom Meetings on another user's Outlook calendar, please refer to the following article for additional setup.