Scheduling a Meeting
Meetings can be scheduled in the Zoom Client, the Zoom Portal, or through the Outlook Plugin.
Zoom Client
Open the Zoom Client and select the Schedule tile.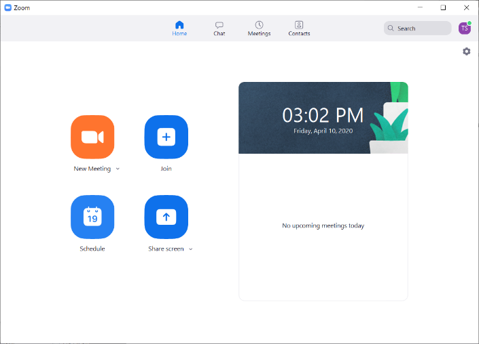 Topic: Will display in the calendar appointment and when attendees first sign-in to the meeting.
Start/Duration/Recurring: Select the date, time, duration, and reoccurrence for the calendar appointment.
Meeting ID: Select Generate Automatically to have a unique meeting ID.
Password: Require users to have the meeting password in order to join the meeting.
Video: Turn the video off for host, participants, or both.
Audio: Allow attendees to join by telephone, computer audio, or both.
Calendar: A meeting invite will generate in your University Account automatically when scheduling a meeting.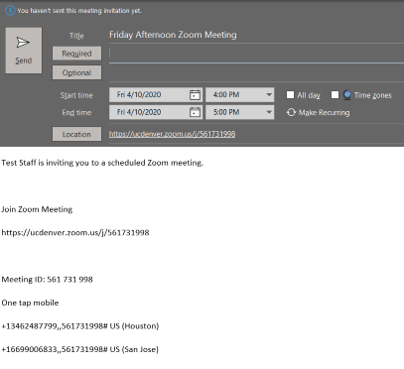 Outlook Plugin
Schedule a meeting in the Zoom section of the top Outlook toolbar.
An Outlook meeting invite will generate with similar options to the Zoom Client.
Zoom Portal
Navigate to the Zoom Portal and sign-in with your University credentials.
Select Schedule a New Meeting on the home page. The meeting options will mirror the options in the Zoom Client and Outlook Plug-in.
When the meeting has been saved, you can choose to add the meeting to your Outlook Calendar. You can also copy the invitation details and meeting URL.