Joining a Meeting
Joining Online via URL
Zoom meetings can be joined online via URL. Simply paste the URL into your browser. You will automatically join the meeting if the Zoom Client for Meeting has been downloaded.
Audio Options
There are two audio options when joining a meeting: by phone or by computer audio.
By Phone
Select the phone tab on the audio conference window that automatically appears when accessing a Zoom meeting. You can dial any of the numbers listed and then enter the Meeting ID and Participant ID when prompted.
Note: The above information will often be included in the Zoom Meeting invite along with the URL – if you can only access a meeting by phone, call the phone number provided to attend the meeting.
By Computer Audio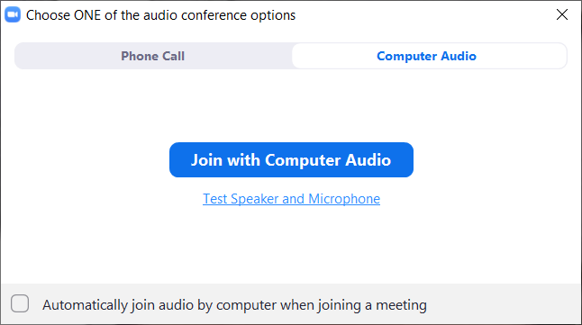 When using Join with Computer Audio, it is recommended to always select the Test Speaker and Microphone link before joining. You can change the default Speaker or Microphone in the drop-down options - this can help in troubleshooting remote headsets or external speakers.
Once your audio passes the speaker and microphone test, click Join with Computer Audio again. You will now be fully connected to the meeting.
Attendee Controls
When attending a Zoom meeting, the attendee controls appear at the bottom or top of the Zoom window. The attendee control options may vary depending on meeting and host.
Mute –Mute and unmute your microphone. The arrow next to Mute allows you to change the microphone and speaker Zoom is currently using, transfer to audio via phone, or access your full audio settings.
Stop Video – Turn your camera on or off. The arrow next to Stop Video allows you to change your camera or select a virtual background (if enabled).
Participants – View all participants that are attending the meeting. Hover over your name in order to change the name that is displayed to other participants.
The Participant window may also have options to non-verbally notify the host. These indicators will appear next to your name in the participant list.

Polls – Vote in a poll if enabled by the host.
Chat – Group chat with other meeting attendees. The host may have also enabled one-on-one chatting.
Share Screen – Share your screen to all participants. When sharing your screen, you may not be able to view the attendee controls bar at the bottom of the window.
Reactions – Additional non-verbal reactions that other participants will be able to view.
End or Leave Meeting – End or leave the current meeting. Only the host can end a meeting.
Test Meeting
If you would like to test your speaker, microphone, video, or Zoom controls before joining or hosting an upcoming meeting, navigate to http://zoom.us/test to access a test meeting.