Installing the VPN
First, we will download the VPN software onto the laptop or Home PC you wish to use

Click the appropriate icon to download the software
Proceed to install the software via the prompts
Installing the DUO Mobile App
Next, we will install the Duo Mobile app on your mobile device. Your device will be used as the secondary authentication to get on the system. If your password is compromised somehow, strangers would not be able to log in to the UCDenver VPN without having access to your device as well.
Setting up the VPN
It is now necessary to connect to an OFF-CAMPUS NETWORK (CU Anschutz GUEST, uchealth-visitor, a coffee shop, home Wi-Fi, or even using your phone as a hot spot, etc. NOT connected to the CU Anschutz network)
Once connected to the internet, run the GlobalProtect software from the Start Menu or Applications list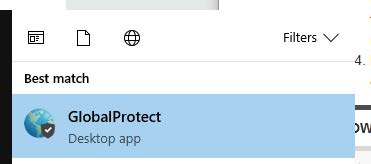 After it opens; enter "amc-vpn.ucdenver.edu" in the Portal Address window & select "Connect"
If you are using a Mac device and GlobalProtect is stuck at "Connecting...", follow the Mac Security Permissions instructions at the bottom of this article.
On the Web Login window (1) you want to enter your username and then login
On the second window (2) that opens you'll want to select "Start Setup"
Select Mobile Phone and follow the prompts (input phone number, verify phone number is correct, continue; select type of phone.

A QR code/Barcode will show up on your PC screen

FROM YOUR PHONE

—Open the Duo App, select the Plus sign (it will request access to phone camera; choose to allow), scan the barcode and your phone will be linked to your account

FROM YOUR PC – Choose the preferred method of connection (most choose 'Send me a Push') and then use your phone to accept the push and connect.
VPN setup on your phone is now done. The Duo App on your phone is now linked to your university account to use as a 2FA method (in addition to username and password).
Connecting to the VPN
The Setup/Registration is only necessary the first time you connect on your laptop. To connect after that setup, you will only have to open GlobalProtect; click connect; enter University credentials; and verify your ID with your phone via the below options:


Send Me a Push

In this case it will send a notification to your phone, select "Approve"

Call Me

Will call your phone—answer and press any number on keypad

Enter a Passcode

Open Duo Mobile app on your phone, expand "CU Secure", input the code shown on your PC
You should now be successfully connected! The VPN will now allow you to freely use campus systems like network drives.
Mac Security Permissions
If you're using macOS version 10.14.X or lower, you will need to complete the instructions below.
Open System Preferences by clicking the Apple logo at the top of your screen then selecting System Preferences.
Click Security & Privacy
Under the General tab, there will be a blurb about allowing Palo Alto networks at the bottom of the box.

Click the Lock button in the bottom left corner of the box
Enter your computer password
Click the Allow button

Close Sytem Preferences
Open Global Protect
Click the three-line/Settings icon in the top right corner
Click Refresh Connection